Project in the South
The Havruta project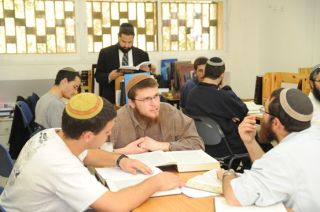 The Kollel – Hesder Yeshiva in Kiryat Gat runs a joint learning program with the Gross High School for empowerment and personality-growth.
The project is based on the assumption that any learning program must provide comprehensive attention to each and every student and serve as a support network as needed.
The study program provides academic enrichment in a wide variety of fields and creates a breeding ground for close friendships that are formed while learning. The guidance of a "significant older person" in these young boys' lives helps them connect to their inner selves, strengthen their self-image, confidence, personal responsibility, and discover their potential, to create a better future for themselves and their environment.
Meetings are held once a week, but friendships between the high school boys and Yeshiva students continue long after the project's official hours.