The Jaffa Institute
Food Distribution Center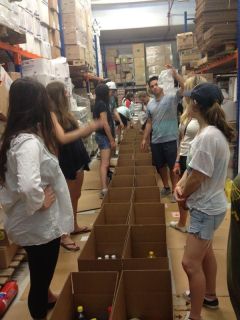 Founded in 1982 by Dr. David Portowicz and Zonik Shaham z'l, the Jaffa Institute serves severely disadvantaged children and their families in a wide variety of holistic programs, aimed at boosting their chance at success and helping them become productive citizens of the State of Israel.
Many families in the south Tel Aviv / Jaffa area suffer harsh economic conditions, severely exacerbated during the High Holiday season. The Jaffa Institute, together with the Tel Aviv-Jaffa Department of Social Welfare, distributes monthly packages, with an additional 1,000 special holiday food packages (including honey and grape juice), to families in need, many of whom are Holocaust survivors. All packages are packed and distributed by volunteers.
Please help us provide as many packages as possible, at a cost of $100 per package.